- SHOREBIRD MONITORING -
October 2016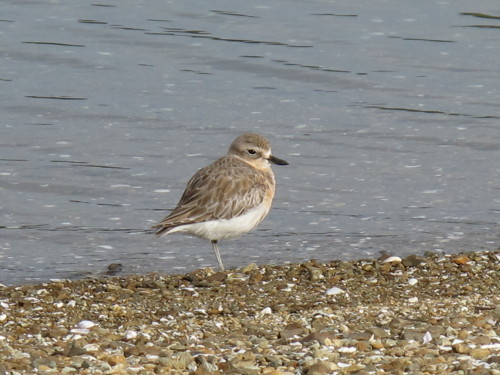 October 1st 2016

8am, high tide 2.9m
Overcast, very calm, tideline at base of shellspit
Monitoring position: head of small shellspit

2 spur-winged plover
6 northern dotterel
8 variable oystercatcher (4 pairs)
1 caspian tern
2 reef heron
1 shag (feeding underwater)

Lots of kotare but no sign of paradise shelduck family

2 dotterels in needle grass gap, fairly static for 30 minute monitoring period. 4 dotterel also static on short shellspit waiting for tide to recede, before simultaneously flying across to mud crab zone adjacent to salt meadow for some rapid feeding at the tide edge.


October 8th 2016

1pm, high tide 2.6m
Sunny, brisk SW, seaweed strewn along base of shellspit from recent bad weather
Monitoring position: head of small shellspit & entrance to lagoon

4 spur-winged plover
4 northern dotterel
8 variable oystercatcher
2 caspian tern (circling overhead)
Numerous kotare (on mud crab flats)

1 dotterel sentinel at top of needle grass gap ridge, static for 30 minute monitoring period. 2 dotterel feeding on mud crab flats. 1 dotterel scurrying around needle grass gap. All plovers & half of oystercatchers in lagoon/mud snail zone. Caspian terns heard before seen, soaring & gliding some distance up. Each oystercatcher pair maintains a respectful distance from the others.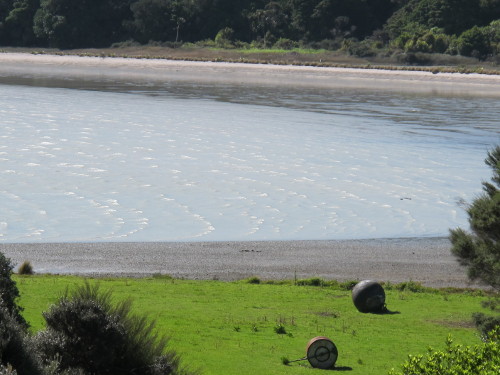 October 16th 2016

10am, 2 hours after high tide (3.05m)
Sunny, brisk SW wind, water choppy
Tide had receded enough for feeding to start

98 godwit
4 northern dotterel
4 spur-winged plover (the only species not actively feeding)
10 variable oystercatcher (5 pairs)
15 kotare (on mud crab flats & lagoon)
1 caspian tern
2 red-billed gull
1 black-backed gull

First sighting of godwits for the season, 13 actively feeding. Remaining 85 in a loose formation facing into the wind, with heads resting on backs & standing on 1 leg, presumably to reduce collective heat loss. No change in dotterel sightings & behaviour since last week.


October 18th 2016

9:30am, right on high tide (3.3m), sunny, calm
Monitoring from main shellspit, looking towards needle grass gap

godwit flock
2 northern dotterel
4 spur-winged plover
8 variable oystercatcher
3 canadian geese

Significantly high tide, though needle grass gap still not submerged. Too difficult to count godwits, as the flock were located on the furtherest edge of the shellspit at the lagoon outlet. Limited visual access meant that more (non-nesting) dotterels may have been present than were observed.


October 22nd 2016

3pm, tide 1/3 out (high tide 3.1m), sunny, choppy water

24 godwit (all actively feeding)
3 northern dotterel
4 spur-winged plover
16 variable oystercatcher
1 black-back gull
1 red-billed gull
4 kotare

Able to approach spit hook with tide out. No nesting dotterels, as viewed from below high tide mark. 2 dotterels did make their presence apparent though, returning from the outer mudflat to confront the intruder. With much chirping they colonised the needlegrass gap until I left. Godwit feeding is methodical & focussed, starting while tide is still quite high then following tide edge in loose line formation as it recedes.

Eva Fernandez's comment: "It seems to me that those dotterels might have something going on. Keep an eye on them! I will write down the date just in case they have started laying. They do not sit on the eggs until they have laid the 3rd one and that might take a few days. See what happens next weekend"


October 29th 2016

9am, tide 1/4 out (7am high tide 2.78m), sunny, cool SE wind
Monitoring behind needle grass gap, looking over lagoon

118 godwit
8 northern dotterel
4 spur-winged plover
11 variable oystercatcher
1 pukeko

Dotterels calling frequently & displaying assertive/aggressive behaviour. All were feeding in loose group in lagoon mud (likely crabs) behind needle grass gap, recently uncovered by tide. Godwits were in resting formation in middle of lagoon mud. 6 oyster catchers in lagoon, 5 on seaward side, none feeding.

After some time godwits all rose in flight formation across to receding seaward tide, followed closely by all the other birds. Godwits spent some time trying out various areas of the tideline, first settling then restlessly flying down to another spot, oystercatchers shifting them along from one chosen position.

Tim Lovegrove's comment: "The remaining two (last week) could be a pair getting ready to nest so keep watching their behaviour and signs of nesting, the birds that have left the site may be young or unpaired birds using Te Matuku as an over wintering site or feeding ground and they move to other locations during summer or have other sites they go to breed. Te Matuku site has some limitations to breeding due to the narrow nature of the spit and inundation with high tides, but there's still potential for nesting"



Note single dotterel in front of godwit flock
Images of lower Te Matuku Bay are intended to provide a sense of place
rather than show specific conditions on monitoring days
Binoculars used for monitoring:

Barr & Stroud, model CF43, specification 10x42, central focus, serial number 118156
Purchased circa 1954, specifically for birdwatching

Visitors & Volunteers
are more than welcome