- SHOREBIRD MONITORING -
May 2017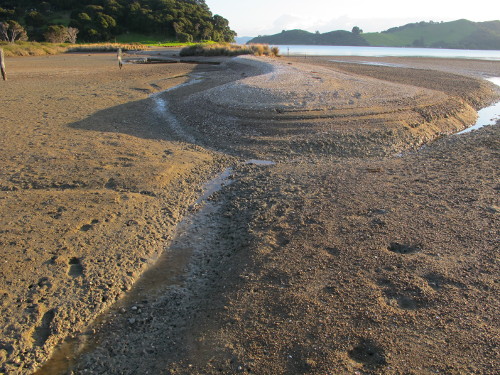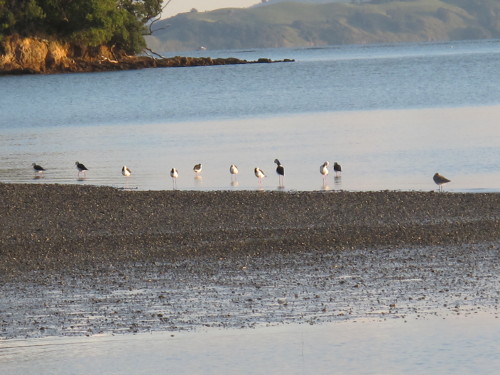 Tuesday May 9th
2 hours after high tide (2.85m at 5:52am), mild & calm

9 oystercatchers
1 Caspian tern
1 white-faced heron
3 spur-wing plover
2 paradise shelduck (pair)
36 pied stilts
30 dotterel


Tui song emenanting from reserve MU3 is pronounced

Sounds of oyster farm boat activity carries clearly across the bay

4 dotterel adults showing breeding colour, most of flock is juvenile

Dotterel juveniles continue to display precocious playful activity

Caspian tern gave extended display of diving for food

Paradise shelduck were last seen in the bay in September 2016


Sunday May 14th
2 hours after high tide (2.71m at 9:14am), cool & clear

Highlight today were 25 variable oystercatchers, roosting in the lagoon. Have not seen this many in the bay before. Rarely more than a dozen are present, usually less.

As well as:
1 Caspian tern
4 spur-wing plover
3 paradise shelduck (2 male, 1 female)
27 pied stilts
20 dotterel (mostly juvenile)

Closest observation proximity to dotterels yet. Was crouched down low on the shell spit gap when a group of 8 juveniles got VERY curious & scampered round the observer.

"Oystercatchers also flock for winter, especially juvenile ones. There are lots on Rotoroa too and we have had a Caspian tern visiting us....might be the same one" - Eva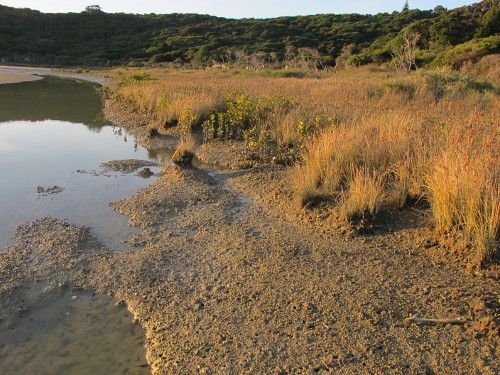 Wednesday May 17th
1 hour before low tide (0.56m at 5:32pm), overcast

Tide was too far out to see all the birds easily so observation was only done from shoreline going round to Pearl Bay

2 herons on the lawn
4 spur-wing plovers
1 Paradise shelduck (female)
1 pied stilt
22 oyster catchers
No dotterels noted but could easily have been present but undetected

1 banded rail was observed in the mud adjacent to the salt meadow (tide was well out), feeding at ease in the open until it sensed a presence & shot off at great speed into the ribbonwood islands.
Thursday May 25th
2 hours after high tide (3.02m at 6:09am), very low fog

13 oystercatcher
31 dotterel
35 stilts
1 Caspian tern
16 red-billed gulls
2 plovers
1 banded rail
kotare

Pied stilts were congregating within the lagoon, feeding on the edge of the main channel half way up the shellbank as it was draining out to sea. Within 1 hours of this observation thay had all flown away. Unlike the oyster catchers, the pied stilts are on site more intermittently.

Red-billed gulls arrived sporadically over an extended period. Just a few to begin with, they caused some bother for the Caspian tern.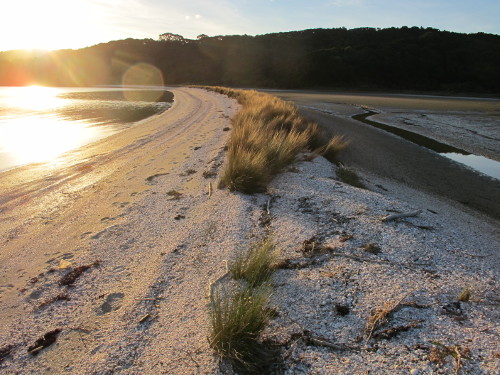 Wednesday May 31st
2 hours after high tide (2.99m at 11:33am), extremely still, water flat calm

8 oystercatcher
25 dotterel
18 pied stilts
2 spur-winged plover
1 white-faced heron
2 paradise shelduck (pair)

Observed from the main shellbank, walking down from the landbridge. Most birds had already moved across from the lagoon & were feeding in the tideline. Able to observe dotterels at close proximity - size & colouring distinctively different between adult & juvenile.
Images of lower Te Matuku Bay are intended to provide a sense of place
rather than show specific conditions on monitoring days
Binoculars used for monitoring:

Barr & Stroud, model CF43, specification 10x42, central focus, serial number 118156
Purchased circa 1954, specifically for birdwatching

Visitors & Volunteers
are more than welcome