- SHOREBIRD MONITORING -
March 2017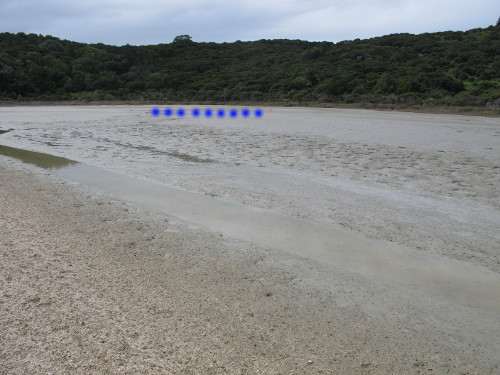 Saturday March 4th
Regional Dotterel Flock Count

58 northern dotterel

108 godwit
29 pied stilts
1 Caspian tern
1 white-faced heron
2 oystercatchers

Observed 2 hours before high tide (10:30am). All the dotterels had congregated together near the ribbonwood islands behind the small spit. With the rising tide at the end of monitoring all flew off to the lagoon roost site. There was much activity, some interacting with nearby pied stilts. A number of dotterels were not shy in coming up close to the human observer.
Sunday March 5th
Regional Dotterel Flock Count

57 dotterel (26 adult, 31 juvenile)

137 godwit
61 pied stilts
2 oystercatchers
1 white-faced heron
PLUS: 2 banded rail

2 hours after high tide (3:30pm) was a better time to count the dotterel flock: still roosting but without the pressure of a rising tide to limit access. The adult dotterel were clearly roosting in the lagoon while the teenagers were up to mischief round the ribbonwood islands. Differences in size, colouring & behaviour were quite obvious.

Largest number of godwit observed for the season. They were all on the gravel spits so proximity made accurate counting easier. 50% breeding plumage in evidence.

The most pied stilts yet observed for the season too. But the highlight was to see 2 banded rail moving between the ribbonwood islands. Perhaps a territorial spat, but whatever the reason the victor remained defiantly exposed in full view for a few moments rather than quickly slinking off.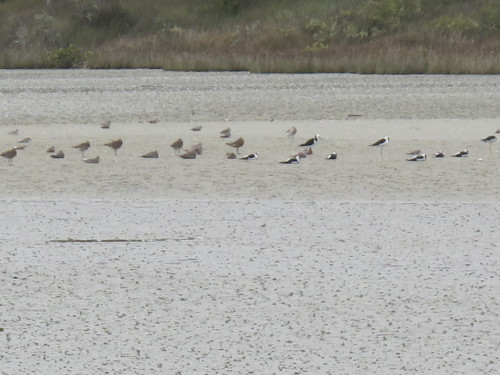 Monday March 13th

Recent torrential rain has wracked the island for the past week. Today was the first day of a return to sunshine & warmth. 10:30 am monitoring revealed a much diminished bird count across the species. Perhaps they have moved temporarily to a more sheltered location? Next monitoring may provide an answer.

4 northern dotterel
72 godwits
NO pied stilts (absent)
1 white-faced heron
1 Caspian tern
2 oyster catchers
1 little shag
3 spur-wing plovers (have been absent for some months)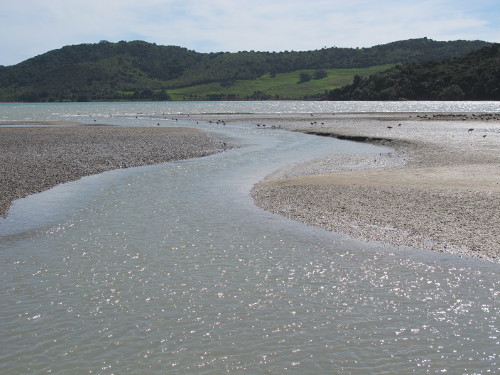 Saturday March 18th

2 hours after high tide (2.78m at 11:56am), hot & sunny

Godwits & dotterels roosting in salt meadow, stilts in lagoon. First time a pair of black-backed gulls observed, roosting near lagoon entrance behind spit. Godwits segregated into adult & juvenile as they flew across to receding tideline, settling in 2 different spots. Differences were quite obvious: adults larger, in breeding plumage, sedate behaviour, formal roosting pattern; juveniles were all lightly coloured & smaller, feeding behaviour more erratic

80 godwits (27 juvenile, 53 adult)
53 dotterel
42 pied stilts
7 oyster catchers
2 black backed gulls
1 white faced heron
1 Caspian tern

Note to self: must remember to remove briar rose from ribbonwood island, before hips are dispersed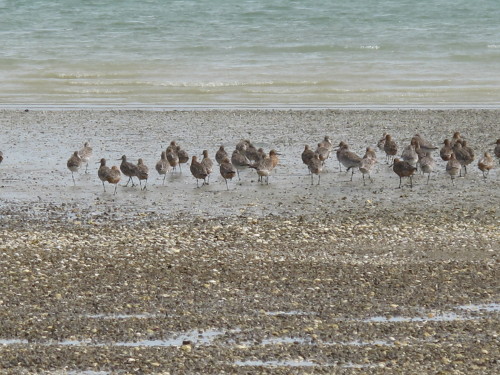 Monday March 27th

2 hours after high tide (2.88m at 7:19am), warm & cloudy

Godwits, stilts & dotterels all loosely clustered around high tide roost site in main lagoon. Few godwits present. Stilts feeding along salt marsh edge. Dotterel behaviour differentiates the adults from the juveniles.

2 black backed gulls
1 white faced heron
1 Caspian tern
8 spur winged plovers
6 oyster catchers
17 godwits
43 dotterels
37 pied stilts
Images of lower Te Matuku Bay are intended to provide a sense of place
rather than show specific conditions on monitoring days
Binoculars used for monitoring:

Barr & Stroud, model CF43, specification 10x42, central focus, serial number 118156
Purchased circa 1954, specifically for birdwatching

Visitors & Volunteers
are more than welcome