- SHOREBIRD MONITORING -
January 2017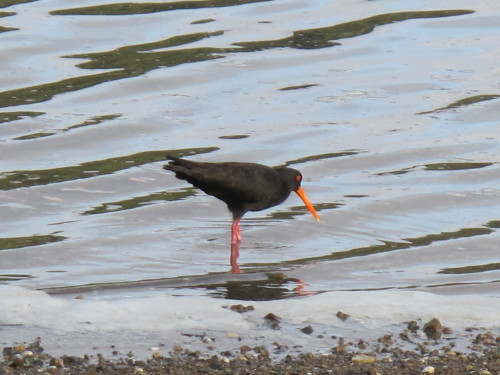 January 6th 2017

Shirin and I (Hue) were kayaking in Te Matuku Bay yesterday afternoon at high tide, sunny, no wind.

1) We saw 60 - 70 godwits their flock seems to have doubled since I was there about 3 weeks ago.

2) 12 - 14 dotterel in a flock, no apparent nesting pairs although one did leave the flock and was acting defensively in the area of the saddle as we kayaked past.

3) A pair of oyster catchers nesting half way along the spit and only just above the high tide mark, which is bit of a concern because it was only a 3.1 metre tide and very calm. Also maybe 3 - 4 other pairs obviously not nesting.

4) 1 white faced heron

5) 10 - 12 pied stilt

6) Usual bits and bobs ...swallow, kingfisher, kahu operating close over the canopy etc.

We also observed a small boat land on the spit close to the end and two people spending about 10 - 15 minutes apparently searching very closely around the very end.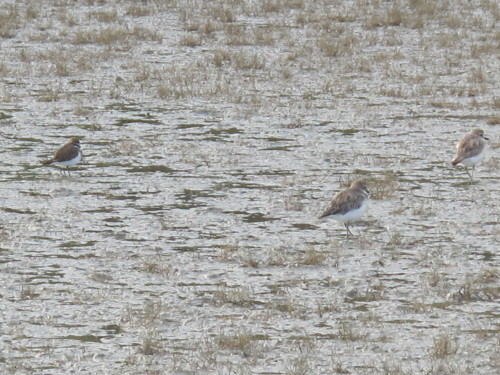 January 14th 2017

7am, 2 hours off rising high tide of 3.25m
Calm, clear, warm

12 northern dotterel
2 banded dotterel
6 variable oystercatcher
1 pied shag
1 white-faced heron
60-ish godwit
6 pied stilt


After an extended period of stable numbers there has been a significant increase of northern dotterel, plus the arrival now of two banded dotterel. Most dotterels were in the salt meadow with two remaining on the spit hook. Incoming tide made observation of lagoon impossible but godwits in flight over the area showed their ongoing presence, though the flock number was almost half of what has been previously observed.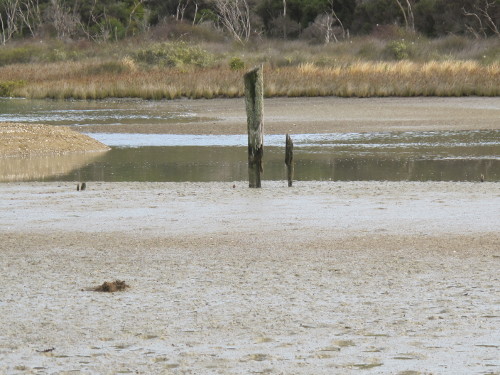 January 27th 2017

9am, 1 hour past high tide of 2.74m
Calm, clear, warm

Now I know why I've hung in with this shorebird programme... to see suddenly this increase in (seasonal) abundance after a prolonged period of stasis.

28 northern dotterel
5 banded dotterel
131 godwit (I counted twice!)
20 pied stilt (beautiful flying formation)
2 white-faced heron (first time I've seen 2)
1 caspian tern (first time seen actually landed)
11 oystercatchers
2 red bill gulls

I was astonished to see so many dotterels. Do you remember me thinking I'd counted 22 at the start of the season, then the week after saw the numbers drop & attributed that to my initial unfamiliarity? I reckon I was close to being correct after all.

The smaller banded dotterel are very funny interacting with their larger dotterel companions. A degree of toleration & mingling but also wariness.

One northern dotterel accompanied me the entire time, flying over, running in front, showing off over the waves & back, but never aggressive.

I sense a whole change of mood in dotterel behaviour, am presuming post-breeding, with this new influx. They are much more relaxed, less urgent, more playful.

I approached down the main shellspit as the godwits flew out of their high tide roosting spot in the lagoon onto the gravel fingers exposed with the falling tide.

But left behind was a scattering of birds which from a distance I assumed to be stray godwits; instead they were the sprawling gaggle of above mentioned dotterels. Such a wonderful sight in the early morning light.

Did not see the oystercatcher juvenile, but couldn't get close enough to confirm absence.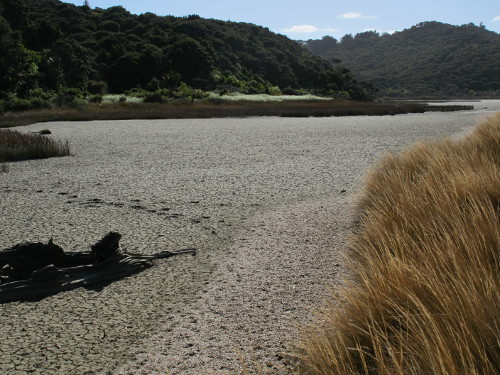 Images of lower Te Matuku Bay are intended to provide a sense of place
rather than show specific conditions on monitoring days
Binoculars used for monitoring:

Barr & Stroud, model CF43, specification 10x42, central focus, serial number 118156
Purchased circa 1954, specifically for birdwatching

Visitors & Volunteers
are more than welcome