- SHOREBIRD MONITORING -
December 2016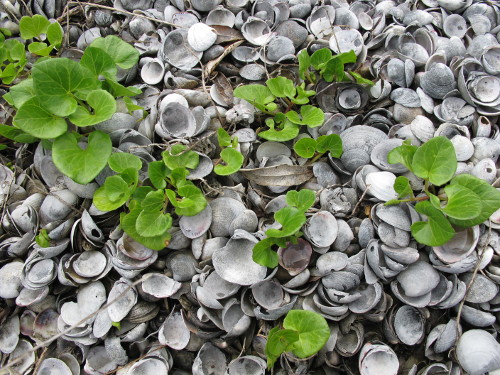 Sand Convolvulus (Nihinihi)
December 4th 2016

4pm, almost low tide of 0.5m
Sunny, mild breeze, much warmer than recent visits (22deg)

6 northern dotterel
12 variable oystercatcher
2 white-faced heron
godwit flock


Northern dotterel: In spite of feeling like a needle in a haystack, all 6 were found by their calls, plus their inquisitive/friendly way of actually following the intruder. No sign of any activity on shellspit hook.

Godwits: Approx 50 spread right across the bay feeding very casually, compared to their frenetic feeding behaviour when they first arrived.

Stingray activity: Evidence of concentrated recent stingray feeding in cockle beds out from Cyril's foreshore. Triangular patterns, with a deeper depression where the mouthpart would be, are like enduring shadows.

December 6th 2016

A quick monitor while baiting the esplanade. No binoculars so a casual glance only which confirmed constant species numbers, though 5 pied stilts were new arrivals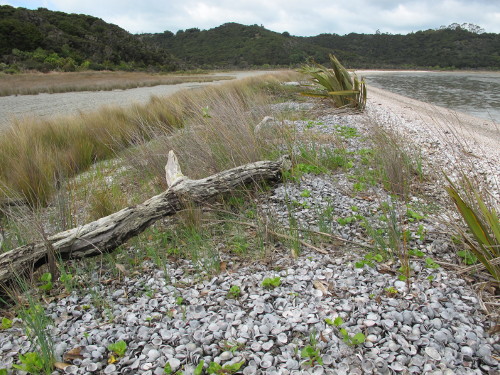 December 10th 2016

2pm, 1/2 tide, rising to 2.8m
Cloud & drizzle, but warm

6 northern dotterel
10 variable oystercatcher
1 oystercatcher chick
1 white-faced heron
115 godwit
3 pied stilt




First shorebird chick sighting of the season: a single oystercatcher chick was seen with parents but quickly hid under the mother & remained there for an extended period. The tide was coming in but the mother remained stationary as the water level slowly rose. Seen near the tide edge of the shellspit, 10m beyond needlegrass gap going towards the landbridge. Close to where some aggressive behaviour was noted from a pair of oystercatchers 1 month ago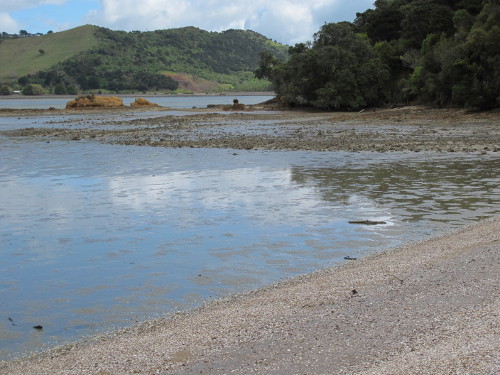 December 17th 2016

11am, 1.5 hr past high tide of 3.28m
Sunny & calm

5 northern dotterel
8 variable oystercatcher
75 godwit
6 pied stilt





Tide too high to monitor main spit at close range. Godwit flock wedged on small shellspit. 5 of the dotterels were found adjacent to godwit flock, the only bird species to co-mingle. Limited godwit flocking sites (between tide line & vegetation) during very high tides, perhaps why the flock number is down. Pied stilts wading in inundated salt meadow, where much underwater mud crab activity was noted. Fish activity breaking water surface out from small shellspit.
---
December 24th 2016
Christmas Eve

High Tide: 4:21pm, 2.6m
Low Tide: 10:19am, 0.76m





Signalling a Christmas break from monitoring with a message from a fellow bird watcher in the Bay of Islands
---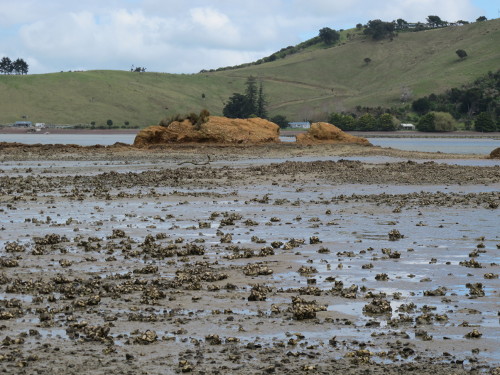 December 29th 2016

10am, 2 hours past high tide, 2.77m, water at base of shell spit
Overcast, cool moderate SW breeze

2 northern dotterel
14 variable oystercatcher (incl 1 chick)
18 pied stilt
110 godwit


Pied stilts: Numbers have gradually increased since first observed arrival on Dec 10
Oystercatcher chick update: Still domiciled near No Dog sign on spit. Chick now third size of adult, mid-grey plumage

Binoculars used for monitoring:

Barr & Stroud, model CF43, specification 10x42, central focus, serial number 118156
Purchased circa 1954, specifically for birdwatching

Visitors & Volunteers
are more than welcome